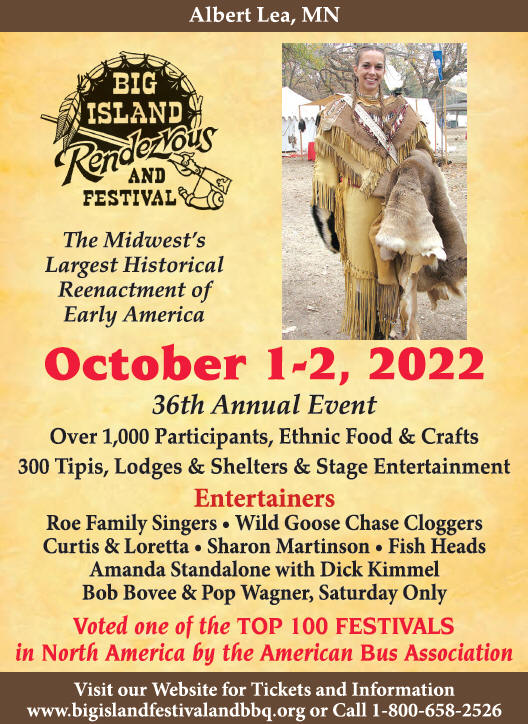 35th Big Island Rendezvous & Festival 2022

Click here for the 2022 Program/Entertainment Schedule!

We are so glad you are attending this year's very special event.
Here are a couple of "housekeeping" items that will help make your day a memorable one.

This is a rain or shine event. Wear comfortable shoes, umbrellas and layered clothing and if it's cold,
you may need to have jackets. You never know what to expect with the weather.


LOCATION The FREEBORN COUNTY FAIRGROUNDS,
this is where you park and ride the free bus shuttle to the Big Island Rendezvous.
The Interstate exit to use is I‑90 ‑ Exit 157, which is one exit west of the I‑90/I‑35 interchange.
Exit 157 puts you onto Bridge Ave., which you take to south to the Freeborn County Fairgrounds.
From there, you ride the shuttle bus to and from the festival site.
Join us at the Big Island Rendezvous to see history come alive.
2022 Big Island Rendezvous dates are:
Education Days September 29th-30th (Schools)
Click here for Education Days Information
Family Weekend: October 1-2 (Public Days)
Click here for ticket information
Handicapped accessibility and wheelchairs are welcome to the Rendezvous.
You park at the Freeborn County Fairgrounds and take the smaller handicapped accessible
buses to the Rendezvous at the top of the hill at the entrance gate.
This parking and transportation is FREE.
Experience the fur trade period in the Voyageur encampment, Native American Tipi tours, the Scottish Clann Tartan, New Ulm Battery,
and many Early American crafts such as woodworking, blacksmiths, and candle making just to name a few.
Purchase period wares, taste authentic cuisine, and experience the sights and sounds of history.


Voted one of the Top 100 Events in North America by the American Bus Association.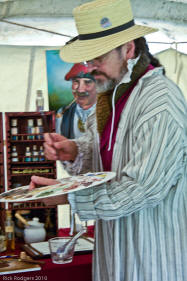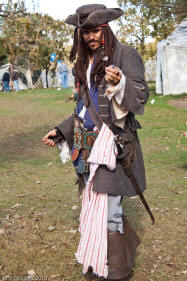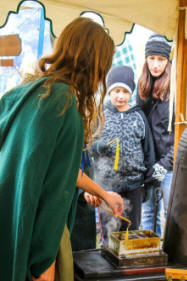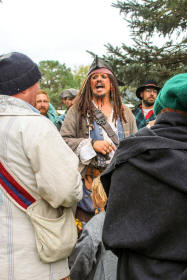 Click here for Additional Photos